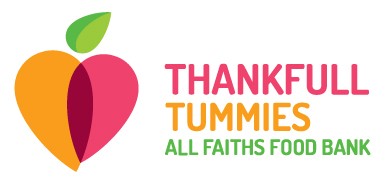 Turn an empty plate into

a ThankFULL tummy. 
Help us provide 9,000 turkeys to children, families, seniors and veterans in need.
The holidays are almost here, and though our gatherings may look different this year, most of us will still get to share a special meal with friends and family. But with the financial impact of the pandemic continuing to be felt, so many families can't afford the simple joy of a holiday meal — or any food at all. Thanksgiving could be a painful reminder of hunger with a lot of empty plates.
You can turn those empty plates into thankFULL tummies.
With a gift to All Faiths Food Bank, you can provide a holiday celebration and a healthy meal for families struggling to put food on the table.
Join the ThankFULL Tummies campaign today!
Empty plate +

You

=

ThankFULL Tummy
Food is available for those in need at more than 315 distributions a month