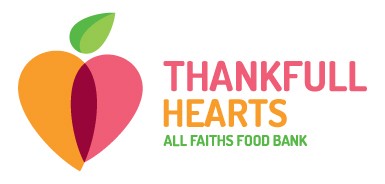 Turn an empty plate into a ThankFULL heart. 
Help us provide 1.2 million meals this season to local children, families, seniors, and veterans in need.
During the holiday season we look forward to gathering and sharing a meal with friends and family, but for families facing financial challenges, the holidays can be a painful reminder of hunger.
The ThankFULL campaign was created with the idea of turning empty plates into ThankFULL hearts and tummies by providing meals for our neighbors who struggle with hunger.
Over the years this effort has connected countless of people with nutritious food who would otherwise go hungry if not for your support.  Join the ThankFULL Hearts campaign today!
Empty plate +

You

=

ThankFULL Heart
How do those in need receive food? 
Your support helps families like Grace and Belle's 
Grace and Belle's mom, Diane brings her two little girls to a Mobile Pantry near their home. She says it's a huge relief to be able to visit the pantry for help with food. "It's a blessing, what you're doing."
They sometimes struggle to afford healthy food, and like many families in our community, they stradle the line between being able to pay basic expenses and needing a hand up.
Your generosity means Grace, Belle and their parents will be able to celebrate the holidays together around a special meal. So many families like theirs are giving thanks for your support this season.