We love our hunger heroes
Thousands of generous individuals, corporate groups, clubs, students, and faith-based organizations help us sort and distribute almost 14 million pounds of food last year. We invite you to help us provide healthy solutions to end hunger throughout Sarasota and DeSoto Counties. We couldn't do our work without our volunteers and we are grateful everyday for their support.
Volunteer opportunities include:
sorting and packing food, distributing at pantries, participating in our nutrition education and cooking classes, helping in our offices, lending a hand at events and more!
New to volunteering?
Volunteer requirements:
Every volunteer must create a profile and sign up for their volunteer shifts ahead of time.
Closed toe shoes are required.
All volunteers must be aged 10 or older to volunteer.
Individuals aged 10-15 must be accompanied by an adult.
*At this time, we are not able to accept Court Ordered Community Service volunteers. Please continue to check our website for updates.
Once you have created your profile our Volunteer Coordinator will be in touch regarding the next steps.
Returning volunteer?
Welcome back! If you already have a volunteer account with us you can sign up for your next shift or check our closed dates by clicking the button below.
Group volunteering:
Find out more about group opportunities.
All Faiths Food Bank is fully committed to attracting and retaining diverse talent in order to better reflect the wide variety of experiences and views of the many different stakeholders with whom we are connected. We will invest in actively recruiting, engaging and fostering diversity in our board, volunteers and workforce while providing a work environment that promotes equity and inclusion.
We commit to providing policies, systems and a culture where our board, volunteers, staff and those we serve will be afforded equitable access and opportunities to reach their full potential and feel valued, respected and supported.
We were pleased to host our Volunteer Appreciation Celebration on January 31st to thank all of our wonderful volunteers and shine the light on some truly outstanding hunger heroes.
HUNGER HEROES OF THE YEAR
Mobile Pantry Link-2-Feed Award – Jane Bubinak
Mobile Farm Market Link-2-Feed Award – Leslie Daniels
Sorting Room Award – Brian Bender & Cheryl Sommers
Outstanding Group Award – Bank of America
Moblie Pantry Award – Paul Balzano
Mobile Farm Market I Award – Sheril Miller
Mobile Farm Market II Award – Arelis Diaz
Backpack Group Award – Unitarian Universalist Church
School Pantry Award – Janet McMahon
Community Pantry Award – Wendy Hopkins
Cooking Matters Award – Jeani and Tim Kessler
Community Partner Award – FCCI Insurance
Top Food Drive Award – Temple Emanu-El
Community Event Partner Award – Lucia Marinelli
Outstanding Youth Volunteer Award – Lindsey Hyer
Power Couple of the Year Award – Dan and Fern Buchler
Admin Volunteer of the Year Award – Diane Marcus
New Volunteer of the Year Award – Barbara Taylor
Receptionist Volunteer of the Year Award – Teresa Frazier
Hunger Hero of the month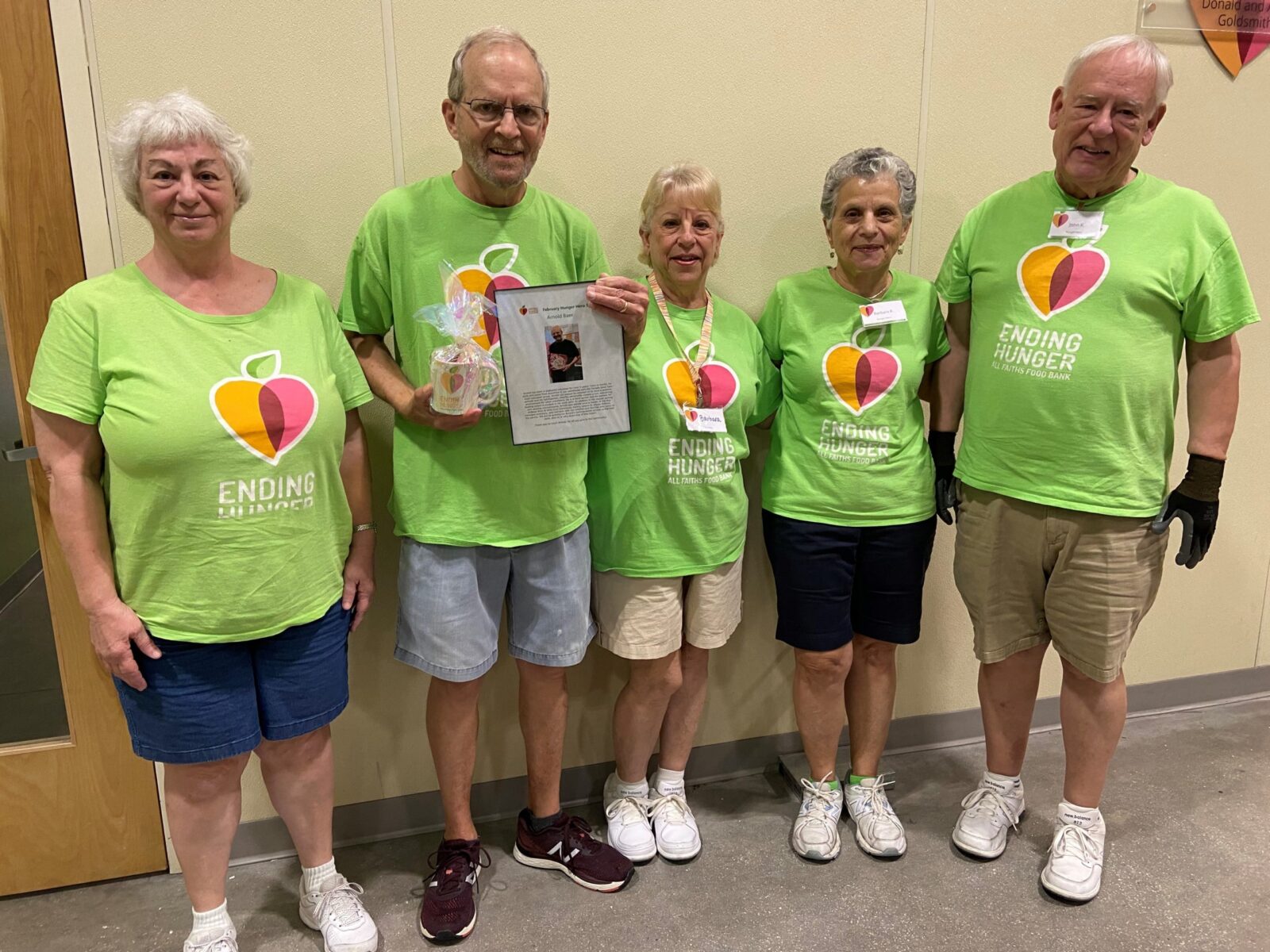 Arnold has been a dedicated volunteer for over 3 years! Twice a month, he sorts and packs food donations in our warehouse with the Temple Sinai Gan-Edan volunteer group. Arnold can always be counted on to have a positive attitude and his lighthearted, cheerful personality creates a fun, welcoming environment for other volunteers. He is a hard worker and his passion for helping others is evident in his work ethic. In addition to his regular sorting and packing commitments, Arnold also assists once a month at the Roy McBean Boys & Girls Club Community Pantry, where he stocks shelves, manages inventory, and interacts with the children and families who come to the pantry. We are so grateful for Arnold's commendable service to the food bank, and he is very deserving of this honor!
Thank you so much Arnold, for all you give to the community!